Best Web Hosting
HostPapa
web hosting review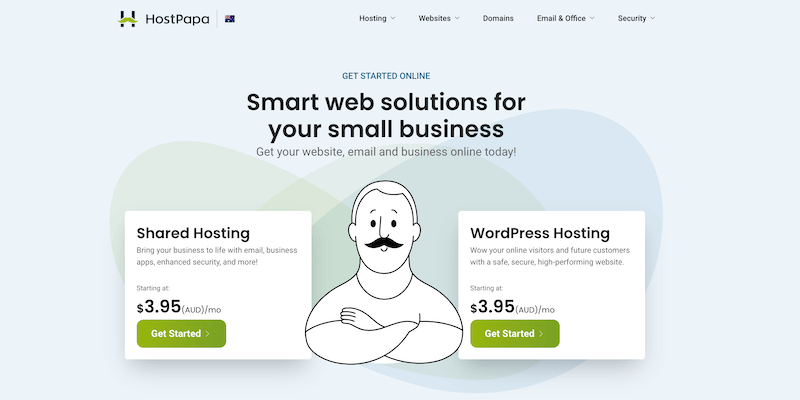 🇦🇺 Best Web Hosting Service
1
HostPapa
AU$2.95 per month (first 36 months)
30-day money-back guarantee
Free domain name
100 email addresses included
483 people have visited this page today
HostPapa is a Canada-based, privately owned web hosting provider that entered the market in 2002 with its application software related to dedicated hosting services. Three years later, they began offering their first hosting services and, finally, in 2006 the company was officially founded in Ontario, Canada by Jamie Opalchuk. Throughout the years they've been providing shared, reseller, WordPress and VPS hosting to customers across the globe. At the same time, they've managed to build a fairly good reputation for their commitment to security, reliability, technical expertise and solid customer support.
HostPapa has received a number of awards since its founding, including Uptime Awards from NCM Online and WHTop. In addition, they have appeared on the PROFIT 500 ranking of Canada's fastest-growing companies list on three occasions, the last time being in 2015. In the same year, they've announced a partnership with Dropmysite, a Singapore-based global cloud software platform that provides backup for websites and databases.
One way HostPapa stands out among its competitors is focusing on being and staying green. Their eco-friendly approach is evident in the usage of 100% green renewable energy to power up data centers, web servers and all electronic devices in their offices. Concerns about the impact their company is having on the environment have been featured in their promotional material and are their unique selling point right from the beginning. Additionally, in 2011, HostPapa financed the planting of 10,000 trees all over Africa on Earth Day as part of the Love Trees charity.
Starting from AU$3.95 /Month
Pricing and payment methods
HostPapa claims its goal is to provide every customer with a fully-featured hosting package at the lowest possible cost without compromising the quality. All of the above should come together with the help of top-notch customer service and powered by renewable green energy. With this in mind, we were expecting budget-friendly prices and that's more or less what we got.
| Pricing Plan | Starter | Business | Business Pro |
| --- | --- | --- | --- |
| Discount Price/Month | AU$3.95 /Month | AUAU3.95 /Month | AU$12.95 /Month |
| Normal Price/Month | AU$9.99 /Month | AU$14.99 /Month | AU$23.99 /Month |
The web hosting Starter plan begins at AU$3.95 /Month (although it will cost AU$9.99 /Month), supports hosting up to two websites and includes a free domain, 100GB of SSD storage and unmetered bandwidth. This sounds like a pretty good value for money.
Although all customers are entitled to cancel HostPapa's services at any moment, there is a 30‑day risk-free money‑back guarantee. However, it applies to shared and reseller web hosting plans only, which seems a bit reductive.
However, these prices are equivalent as HostPapa only lets you pay annually, with the default plan locking you in for 36 months. This is pretty common amongst hosting providers, but it's still worth knowing in advance before signing up to any web host. HostPapa also offers plans for one and two years but with the price per month increasing.
If you opt for the dedicated Optimized WordPress Hosting plan that offers better performance and specialized support for WordPress blogs, you can pay the same AU$3.95 /Month with a three-year commitment to AU$12.95 /Month for the Pro level. HostPapa additionally operates a Managed WordPress Hosting service, that comes with a range of better features plus has your very own dedicated maintenance and stronger security for your site. These plans are more expensive, however, with the Launch plan beginning at AU$19.95 and the Pro level reaching to AU$69.95!
If you're interested in VPS hosting, there are five different pricing tiers ranging from AU$19.99 to AU$249.99 /Month (for 36 months). As for the payment method, HostPapa accepts credit/debit cards and PayPal.
24/7/365 Chat Support
Support
If you click the Support button on HostPapa's landing page and then proceed to Customer Care Center, you'll be presented with a few (and definitely more than we usually see) self-help services done right.
The knowledgebase contains remarkable 2539 articles and 74 different categories. As for their quality, as far as we could tell, they are written in a very easy-to-understand, instructive and helpful manner covering various potential questions, concerns and issues. Additionally, HostPapa offers video tutorials, information on network status and options to write an e-mail, submit a support ticket, open a live chat or contact the support team via telephone. Both chat and telephone support services are available 24/7.
In addition to the above, there are cost-free weekly webinars as well as 30 minute one-to-one training courses which surely deserves praise. HostPapa doesn't have an official forum at the moment, but given the level of support they provide their users with, it isn't a significant issue.
Response Time
Performance
We rounded off the review by using Uptime.com to monitor our test website from multiple locations around the world, logging response times and any downtime.
Our test site was hosted on Hostinger's most basic shared hosting plan, but still managed a solid 100% uptime record over 10 weeks of monitoring.
Uptime.com recorded a response time range of 171ms to 1.73s, with an average of 382ms, over the last seven days of testing. Starter shared hosting plans typically manage 200-400ms with an average peak of 700-800ms, so Hostinger is clearly on the slow side when it comes to response times.
Page load times matter too, though, so we used Dotcom Tools' Website Speed Test to measure our site performance from 16 locations around the US and Europe. This time the results were much better at 878ms, putting it in the top 25% of providers.
A mixed story, then, but keep in mind these are comparisons based on the cheapest shared hosting plan from each test provider. Some of those plans cost 5x to 10x the $1.39 you could pay with Hostinger, so on balance we think the company did reasonably well.
Fair prices
Final verdict
Hostinger's starter accounts have some significant limits, but they'll still work for some, and otherwise its products offer plenty of features and powerful cPanel-like site management for a very fair price.